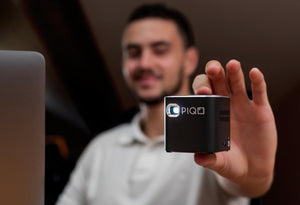 WORLD'S SMALLEST
HD PROJECTOR
Best Portable Projector for 2023
Meet PIQO
The next generation of on-the-go entertainment. PIQO is a powerful HD projector that turns your average media viewing into a cinematic experience.
Learn More
A Home Cinema in Your Pocket
PIQO is the smallest projector in its class. At just a little over 2 inches in all sides, it can easily fit in your pocket, handbag, or briefcase. 


PIQO connects to your devices via WiFi, Bluetooth, HDMI or USB, making it universally viewable, sharable, portable, and all the more powerful.
Explore Now
Enjoy All the Fun in One
PIQO is compatible with 3 million apps and counting on the Google Play Store. Stream or download your favorite shows from Netflix or YouTube, play Candy Crush, manage your calendar and more — all in 240-inch widescreen!
Get Yours Now
Engineered For Performance
Truly Wireless | With Wi-Fi or Bluetooth connection, PIQO can cast from any device and onto any surface.
Built-in Speaker | PIQO's built-in Hi-Fi speaker makes it easy to watch movies or listen to music on-the-go.
Strong Battery | With 50 hours of music playback and 5 hours of video playtime, PIQO packs a punch against its rivals in battery life.
Discover More
As Seen On
Anytime, Anywhere
Enjoy a Truly Cinematic Experience
Kick back and watch your favorite movies whether you're at home or on the go
Get Yours Now
Testimonials
The picture quality is actually very clear and sharp. And the size is just perfect to travel in my bag. Now i m in love with piqo!

Kayden
I did not expect to be able to get a high quality and professional projector at this size. Really love it.

Andrea M.
This projector is awesome. It's like smaller than the size of my palm. I carry it around for trips and can stream movies anywhere.

Spencer G
PIQO is an amazing product! I use it often for my movie nights, and its super convenient with friends. Would recommend.

Vlora
Love my new toy! I will code here

Alex W.
I can easily put it in my bag and go anywhere. Perfect for gaming at night! It completely lived up to my expectations and I would recommend it to anyone thinking of buying one

Jamie Green
Its a wow product! Love watching movies with it. The quality is really good!

Jordan K
I like this projector! so small that I can put it in my backpack and carry it around with no problem.  All my friends ask me where i get it.

TOM812
I have been looking for this feature in projectors for a while and feel lucky to have found PIQO

Hunter Knibbs
FREE SHIPPING
GET 50% OFF TODAY
Now on sale, with prices as low as ever! Why wait? You can't miss this latest portable tech.
Shop Now