Limited-Time Offer >> Get 50% Off NOW!
A Home Cinema in Your Pocket
Shop the ultimate pocket-sized projector, designed to elevate your entertainment experience to new heights
Industry-Topping Battery Life
Keystone Angle Correction
PIQO x OUTDOOR
PIQO revolutionizes outdoor entertainment, turning any setting into a cinematic wonderland with 1080P HD clarity. Its portability and long-lasting battery make it the ultimate adventure and entertainment companion

PIQO turns any outdoor space into a movie theater for a fun party with friends!

"PIQO has transformed my outdoor adventures into cinematic experiences, bringing nature to life with stunning visuals. It's an essential companion for outdoor enthusiasts."

— @Chris Cox, Youtuber

Enjoy a Truly Cinematic Experience

PIQO revolutionizes your work life with its compact design, wireless connectivity, and impressive presentations. Ditch bulky equipment and cables for impactful, hassle-free presentations.
"PIQO has been a tremendous asset for my business presentations. Its portability and user-friendliness have made my work more efficient, and the outstanding image quality has left a memorable impact on my clients. PIQO truly elevates my professionalism and effectiveness in every meeting."

— @Derek Ting, Youtuber

An Exclusive 50% Discount
PIQO x Events
PIQO adds a touch of magic to projection photography, making it more accessible and creative than ever.

"PIQO has been a game-changer at art events, adding a unique touch to my photography by projecting visuals onto various surfaces. It's easy to use and has truly elevated creativity at every event."

- @mohammed bouraoud, Youtuber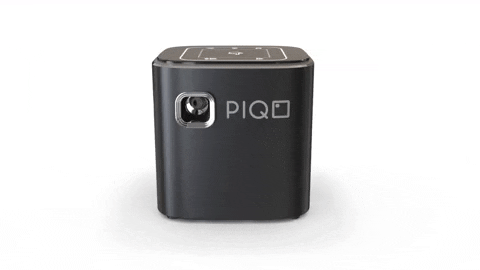 ✅ Stunning Clarity & Projection: Bright at 200 lumens with keystone angle correction and projection size up to 240"

✅ Pocket-sized Portability: Fits in your pocket and comes with 16 GB for data storage and built-in HiFi speakers

✅ Universal Compatibility: Compatible with all Android, iOS, Mac & Windows systems & devices as well as multiple apps

✅ Connect to Anything: Multiple ports, Bluetooth, Air Play and screen mirroring all supported

✅ Battery to Last: 5 hours of video and only 15 minutes of charging for an hour of video playback

✅ Touch Screen: Seamless navigation with just the touch of a finger

Tech Reviewers Love PIQO!

"I've used various projectors over the years, but PIQO is in a league of its own. The image clarity is impressive, and the touchscreen interface is intuitive. Whether I'm giving a presentation at work or enjoying a movie at home, PIQO delivers exceptional performance."

"PIQO has been a game-changer in my entertainment setup. The picture quality is outstanding, and its portability is a huge plus. It's like having a cinema in your pocket!"

The projector's rugged design and durability make it perfect for outdoor use. It can withstand the elements, from dust to light rain, ensuring it's ready for any adventure. Setting it up is a breeze, and the quality of the picture it delivers is astonishing. "

"I can't say enough about how incredible the PIQO projector is. It's not just a gadget; it's a game-changer. From the moment I unboxed it, I was blown away. The compact size is deceiving because the picture quality it delivers is nothing short of breathtaking. "


"The compact size and lightweight design make it incredibly easy to carry. It fits snugly in my backpack, and I hardly notice the extra weight. Setting up PIQO in a new destination is a breeze – it connects seamlessly to my devices, and within minutes."


"As a travel enthusiast, I needed a projector that could keep up with my adventures. PIQO's long-lasting battery and portability have made it an essential companion. Watching movies under the stars while camping has become a cherished memory thanks to this incredible device."