EXCLUSIVE SALE 50% + EXTRA 8% OFF >> shop now!

Holiday Sale! Unwrap the Coolest Gift of 2023: The World's Smallest Projector!
PIQO - Your Go-to Video Streaming Solution!
Have non-stop entertainment no matter where you are. With PIQO Portable Mini Projector, enter a futuristic world where stunning visuals and built-in HiFi speakers elevate your streaming experience. Convenience and performance classified!
Unlocking Infinite Possibilities with PIQO
PIQO's pocket-sized design redefines projector portability. It fits in your pocket yet projects up to 240 inches of HD content.
PIQO's built-in Wi-Fi and Bluetooth let it effortlessly connect to your devices. No more cable clutter or complex setups, just straightforward, hassle-free connectivity.
PIQO isn't limited to one use. It's your go-to for both entertainment and productivity. The potential to elevate experiences is truly remarkable.
Industry-Topping Battery Life
Keystone Angle Correction
Simplifying Video Streaming Needs for Everyone

With the PIQO projector, transform any space into a home theater. Just connect it to your TV or gaming console for HD movies, TV shows, and games, no need for a massive TV.

Take PIQO on camping trips or picnics, creating a portable entertainment center with its built-in battery. Enjoy high-quality outdoor entertainment hassle-free.

PIQO is perfect for meetings. Connect it to your laptop or smartphone to showcase reports and presentations professionally in any setting, without complex tech setups.
Building a home cinema has never been easier! With PIQO Mini Projector, enjoy an immersive cinematic experience on any device.
PIQO makes the best camping partner! Put this compact projector in your backpack and cherish unlimited entertainment for long hours.
PIQO levels up your professional presentations and meetings. Just connect it to your smartphone or laptop, and you are good to go!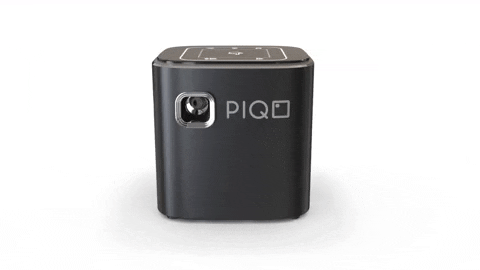 *You will save 50% + Extra 10%
**Extra discount applies at Checkout
✅ Stunning Clarity & Projection: Bright at 200 lumens with keystone angle correction and projection size up to 240"

✅ Pocket-sized Portability: Fits in your pocket and comes with 16 GB for data storage and built-in HiFi speakers

✅ Universal Compatibility: Compatible with all Android, iOS, Mac & Windows systems & devices as well as multiple apps

✅ Connect to Anything: Multiple ports, Bluetooth, Air Play and screen mirroring all supported

✅ Battery to Last: 5 hours of video and only 15 minutes of charging for an hour of video playback

✅ Touch Screen: Seamless navigation with just the touch of a finger

Your Go-to Video Streaming Solution!

"I've used various projectors over the years, but PIQO is in a league of its own. The image clarity is impressive, and the touchscreen interface is intuitive. Whether I'm giving a presentation at work or enjoying a movie at home, PIQO delivers exceptional performance."

"PIQO has completely redefined my movie nights! The picture quality is fantastic, and the fact that it's so portable makes it a game-changer. I've used it for outdoor movie nights with friends, and it's been a hit every time. Highly recommended!"

"As a travel enthusiast, I needed a projector that could keep up with my adventures. PIQO's long-lasting battery and portability have made it an essential companion. Watching movies under the stars while camping has become a cherished memory thanks to this incredible device."

PIQO is a fantastic addition to my tech collection. Its compact size makes it easy to carry anywhere, and the picture quality is astonishing. I love how it transforms any space into a mini cinema. PIQO has certainly raised the bar for projectors!
Better Entertainment For a Brighter World With PIQO
Unlike Any Other Projector
5.8" x 3.4" x 1.4" and up
See what our customers have to say!
⭐️⭐️⭐️⭐️⭐️
10,000+ 5 stars reviews
Q: How to connect PIQO to your Apple devices
Download Eshare to your Apple devices and activate it first before you connect to AirPlay. 1. Connect your Apple device and PIQO to the same WiFi network 2. Start Eshare on the device and on PIQO 3. Go to the device's Control center —> select screen mirroring —> select Piqo 6128 4. Enable Airplay
Q: How to connect PIQO to your Apple devices without Eshare:
Depending on the amount of salt added, typically 3-5 days. Salt helps extend the life of the milk and adds flavor, but is not necessary.
Q: When will my order be shipped?
All orders are shipped out within 1-3 business days (Monday-Friday). You will receive a shipping confirmation email that will notify you of the carrier and the shipment tracking number. Please allow up to 14-20 business days for processing & shipping for international orders, due to possible delays through customs.
Q: I can't hear any sound when I connected my projector via HDMI
Audio must be connected via aux cable if the projector is on HDMI modeBluetooth gets disconnected when I pair my phone with the projector
Q: What is the warranty policy?
A: 1-year manufacturer's warranty on defects
Get your hands on the PIQO Mini Projector now for an instant cinematic experience!